We have boat slips available for our cottage dwellers.
Our facilities are pet friendly. We love to host our furry friends!
We offer complimentary kayaks. They're great for fishing, exercising or just taking in the sights. We're located one block from the beach
Great Fishing and More at Our Cottages on the Harbor
Changing Tides Cottages, since 2000, has been providing our guests along with their pets relaxing, fun-loving waterfront rentals on Madeira Beach, FL! With our quaint, cute cottage rentals nestled along 180' of harbor frontage, our guests can hear echoes of 'Old Florida'… We are only one block to a sugar-sand Gulf beach and two blocks to John's Pass Village with its lovely boardwalk, restaurants, and shops. For you fishing people, we offer numerous deep-water slips. In fact, chances are the peninsula-state has a top-notch version of that dream sights.
Contact us to book your next vacation!

Experience a Taste of Old Florida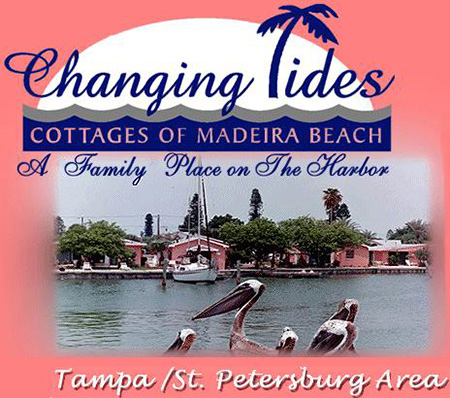 Changing Tides Cottages is the perfect pet-friendly waterfront vacation rental in Madeira Beach, FL. We said we 'accept pets,' but we mean that we accept all-sizes of pets. Your big dog, no matter what breed, is not too large to come stay with us! Your pups may be with you along the waterfront, on the docks, on your covered deck or patio, just like they would be at home. The only restriction is that your pet is friendly to both people and other animals. Changing Tides Cottages IS your home away from home for relaxing with your furry friends. We are an enclosed compound so your canine companions can be safe on the grounds.
Our bungalow rentals provide a wide array of amenities, from fully-equipped kitchens, covered patios, and decks, to picnic tables and gas grills. We try to keep our cottages well-stocked for serving as your home away from home.
We offer 180 feet of waterfront amidst common areas, lush with tropical landscaping and vegetation. Our covered gazebo area with ample seating allows our guests to gather in a relaxed, intimate setting situated about five feet from the harbor — the perfect spot for watching herons, gulls, cormorants, anhingas, dolphins, and manatee.
Our waterfront rentals are truly a hidden gem of a vacation spot for you and your pets!
View Our Amenities
Madeira Beach is at the heart of Florida's Central Gulf Coast, close to Tampa, Sarasota, Clearwater and St. Petersburg. Each city offers many cultural options, including theaters, art galleries, museums, aquariums, and professional sports such as baseball, football and soccer.
Our pet-friendly cottages are completely surrounded by beautiful beaches and warm tropical waters. Madeira Beach is three square miles, and two of it is water!
We are your vacation experts! Our specialties include:
We are a pet-friendly resort and welcome all friendly large and small pets.
We're close to many restaurants, shops and endless fun
Go to the Cottages page and pick one out, then let us know your preference!
Our business has more than 18 years of on-site, small resort management experience. We are owner-operated and live on the premises.
We take pride in our A+ rating with the Better Business Bureau (BBB).
Come Stay With Us!
Contact Kathy at Changing Tides Cottages by calling 727-397-7706 or 727-744-4114 to book your relaxing getaway! Happily providing pet-friendly cottage vacation rentals in Madeira Beach, FL and conveniently located so you can enjoy Tampa and the surrounding area including:
Tampa, FL
Lakeland, FL
Orlando, FL
St. Petersburg, FL
St. Pete Beach, FL
John's Pass, FL
Ocala, FL
The Villages
Sarasota, FL
Anna Marie Island, FL
Treasure Island, FL
Clearwater, FL
Clearwater Beach, FL
Fort Myers, FL
Sanibel, FL
Captiva, FL